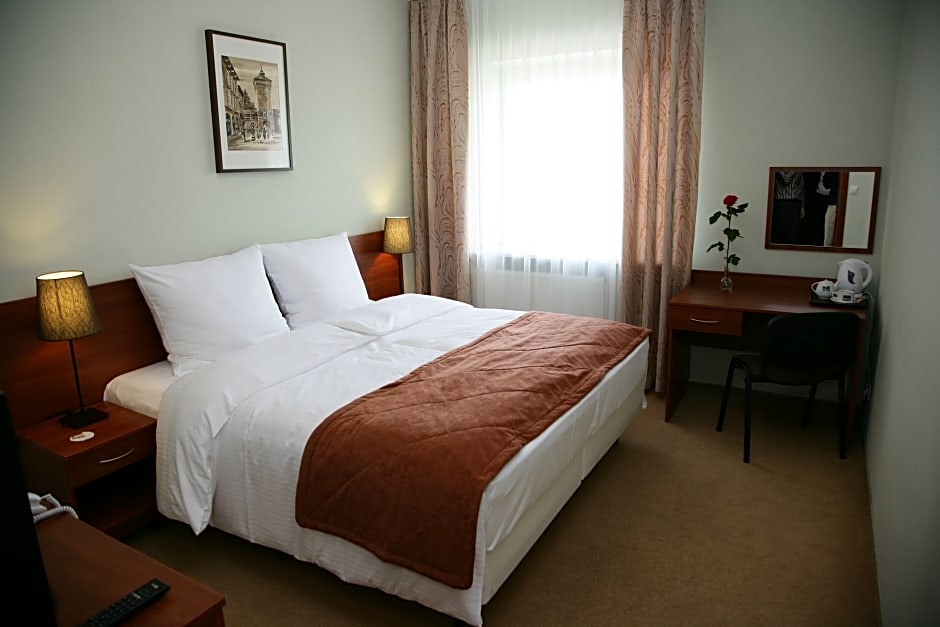 Globus Rooms & Apartments is a 3-star hotel ideally situated in Krakow's Old Town, just a few-minute walk away from Kazimierz and the Main Market Square. This charming hotel offers excellent services, free Wi-Fi access and a convenient internet cafe.

Globus Rooms & Apartments boasts modern, comfortable en-suite guestrooms for up to 4 adults. Each is equipped with a LCD satellite TV, hypoallergenic linen, tea/coffee making facilities and a work desk.

Each morning, a tasty breakfast buffet is available. Guests without laptops can make use of Globus' comfortable internet cafe situated on the ground level.

The hotel's business centre is available 24-hours-a-day. The hotel concierge will assist guests with car rental and airport transfers, tourist information and bookings for sightseeing tours throughout the city and surrounding areas.

The area surroundings include most of Krakow's outstanding restaurants, lively nightlife, cultural attractions and shopping.
ゲストレビュー
自分の意見や感じたことを教えるためにはこちらをクリックしてください >>
予約する方法
Aparthotel Globusで予約するのが簡単で安全でございます。ご希望の日付を選択します。そして、フォームを送信するために「料金を確認し」というボタンをクリックします。 客室タイプと料金はお宅の画面に戻った後で、画面の中央にある部屋の情報を読むと画面の右側にある「予約する」というボタンをクリックすることによって希望の料金を選択することができます。希望の客室タイプを選択した後で、「ご予約を完了」というフォームに転送されます。その時に「滞在の詳細」を確認して、「ゲストの詳細」という部分の空欄でご自分の詳細のことを書きます。ご自分の名前とメールアドレスが正しく入力されていることを確認してください。 すべての重要な情報を記入した後で、「ご予約を完了」というボタンをクリックしてください。ご自分のセキュリティを確保するために、私たちがクレジットカード番号を暗号化し、非使用可能な形式にエンコードする安全なコマースサーバーを使います。
地域情報
空港

Krakow, Poland (KRK-John Paul II - Balice)

- 6.38 mi

Katowice, Poland (KTW-Pyrzowice)

- 47.97 mi

ミュージアム

Artemis Gallery

- 0.33 mi

Jan Fejkiel Gallery

- 0.38 mi

Galicia Jewish Museum

- 0.42 mi

Archeological Museum

- 0.44 mi

Historical Museum of Krakow

- 0.45 mi

Ethnographic Museum in Krakow

- 0.53 mi

Krypta u Pijarow Gallery

- 0.55 mi

Piano Nobile Gallery

- 0.59 mi